China Does Random Drug Testing In Bars & Clubs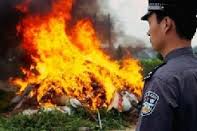 China laws and policies have always been a little extreme; China is going above and beyond when it comes to inconveniencing their people and foreigners. To get into China, you must go through a medical evaluation. It's illegal in China to even have drugs in your system.
China has seen an increase in drug use by its population. To counteract this emerging drug culture and problem. China has decided to conduct random drug testing at bars and clubs. Drug testing is a urinalysis that gives instant results. If you're a foreigner, you will be taken back to your hotel by police. They will let you gather your things and then bring you to the airport. Then you will be deported and banned from returning. China laws are a little extreme. China is just going to stop tourism and take away from their people chances to see diversity through different cultures and individuals visiting.
I don't think I could ever go on vacation, where I couldn't smoke a blunt. What's a holiday without getting high? Punishments and penalties associated with marijuana use or dealing are harsh in China. Young people in China in their 20s are finding ways to get marijuana into the country. There is a subculture of smokers that are going against the system and getting high. If you're caught dealing or manufacturing in China, the punishment could be execution. I don't think anyone should have their life taken for a marijuana-related crime. I couldn't smoke with that kind of rules on the table. The fact that their still lighting up is a little crazy. China officials need to lighten up & smoke a blunt.
Would you visit a country that marijuana is illegal?
Related Post: Share your views in our chatroom