Marijuana Friendly Hotels & Activities
The stoner couple date night
With the new legal marijuana industry, stoner couples are looking for out of the box date night ideas. Marijuana friendly places are becoming more common and accepted. With marijuana friendly bars, hotels and restaurants. Marijuana user can now freely smoke without hiding.
Stoner

Couples
Top 5 Marijuana friendly Hotel Located In Denver City Center
1.
Downtown Boulder Hotel
Rooms start at $199 a night
This casual downtown hotel is a 7-minute walk from the gorgeous University of Colorado Boulder campus and a 15-minute walk from Pearl Street Mall, providing lots of options for eating, drinking, and all of your cannabis needs by foot or a short drive. All rooms are vaporizer and e-nail and vape pen (cannabis only) friendly, contain en-suite bathrooms, and include free WiFi, 37-inch flat-screen TVs, and coffeemakers. In house Cafe' with a selection of breakfast items and coffee is open from 7:00am-10:00am every morning. The hotel has an indoor heated pool, a whirlpool and a fitness room. Other amenities include a business center, a guest laundry facility and free on-site parking (1 vehicle per reservation). Pet friendly rooms are also available upon request, pet fee of $15 per night applies, maximum 2 pets up to 75 lbs each, $100 deposit required (four-legged friends even receive a pet welcome package including two biscuits & gifts!).
2. Cannabis Friendly Bed & Breakfast
Rooms starting at $189
Stay in the heart of downtown Denver in the finest 420 friendly boutique luxury hotel in the state. Convenient location to 16th street mall, Denver Art Museum, the Colorado Convention Center, the Pepsi Center, Sports Authority Field, Union Station, and the best restaurants, breweries, pubs and dispensaries Denver has to offer. Vaporizer-friendly rooms offer oversized bathrooms with garden tubs, high ceilings, beds with luxury linens, plush bath robes (upon request) and 37" HD-TV's. Free downtown transportation within 1.5 miles of the hotel via private SUV, free wi-fi, fitness center with steam room, on-site lounge and 4 star restaurant with billiards room. Valet parking, room service, full time concierge and made-to-order breakfast. Spacious suites include modern fully equipped kitchens and separate dining and living areas. Our tastefully furnished fireplace suites will keep you toasty away from the cold, with packages available including our exclusive ski resort property. Daily complimentary evening drink reception from 5:30-6:30 pm with wine and beer, plus "cookies and milk" from 8:00-10:00pm.
3. The Exhale Med Center
The Exhale Med Center marijuana friendly lounge. Features include a wide selection of mids and top shelf marijuana strains. This relax atmosphere makes for the perfect smoking session. Great place to meet like-people and enjoy your self. If that's not enough then take advantage of their other services such as a therapeutic massage, acupuncture, Yoga and resources on alternative healing. What ever you need to fully relax, they have you covered. Weed bars will soon become a common place.
4. Pot Palladium
The Pot Palladium will be the very first marijuana friendly movie theater. Being able to chill and smoke while watching a movie. How can you go wrong? I think this should be implemented on a national level. This is a cool place to meet fellow stoner and just turn up.
5. Canvas & Cocktails…" with a Cannabis Twist
Puff, Pass & Paint isn't about making the perfect piece of art. It's about being part of an atmosphere that is relaxed, comfortable, open-minded, and allowing yourself to freely create your own original masterpiece. Visit Site
McDonalds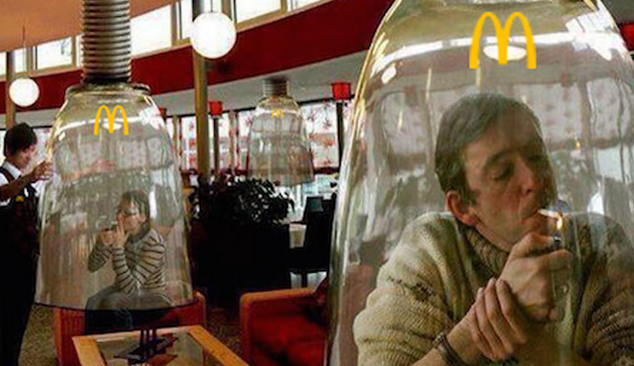 For the stoner on a budget there is a marijuana friendly McDonalds. Where you can smoke while your waiting on your food. You might end up eating 5 boxes of nuggets but that's ok. This concept seems to be the perfect idea. For now this is just a concept hopefully in the future it will become reality.
Related Post: Stoner Sh#t