Marijuana

Friendly
The stoner couple date night
With the new legal marijuana industry, stoner couples are looking for out of the box date night ideas. Marijuana friendly places are becoming more common and accepted. With marijuana friendly bars, hotels and restaurants. Marijuana user can now freely smoke without hiding.
Top 5 Marijuana friendly spot
1.Cannabis friendly Hotel Located In Denver City Center
Rooms start at $299 a night
Offering apartment style suites with fully equipped kitchens will make any stoner feel at home. They provide all guest with a silver surfer vaporizer, to legally smoke cannabis in your hotel room. When the munchies kick in, you can take advantage of the complimentary grocery services. Features also include a roof top fire pit, with oversized patio furniture with a great view of the city. This is a great marijuana friendly hotel.
2. Cannabis Friendly Bed & Breakfast
Rooms starting at $149
For the stoner couple who just want to relax and smoke. There is a bed & breakfast that you can do just that. Features include marijuana friendly rooms, with free breakfast and nice outdoor spaces.  Rooms has an old school feel to them that's what makes this spot different.
3. The Exhale Med Center
The Exhale Med Center marijuana friendly lounge. Features include a wide selection of mids and top shelf marijuana strains. This relax atmosphere makes for the perfect smoking session. Great place to meet like-people and enjoy your self.  If that's not enough then take advantage of their other services such as a therapeutic massage, acupuncture, Yoga and resources on alternative healing. What ever you need to fully relax, they have you covered. Weed bars will soon become a common place.
4. Pot Palladium
The Pot Palladium will be the very first marijuana friendly movie theater.  Being able to chill and smoke while watching a movie. How can you go wrong? I think this should be implemented on a national level.  This is a cool place to meet fellow stoner and just turn up.
5. McDonalds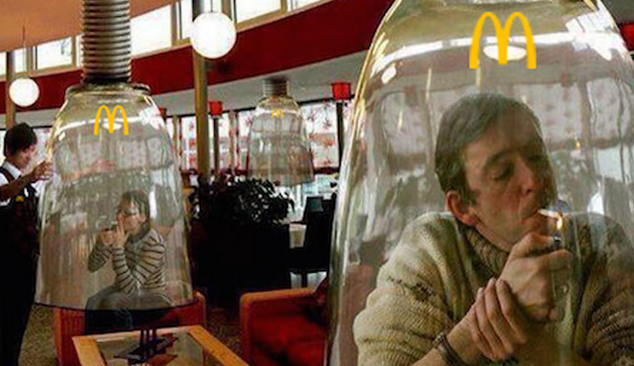 For the stoner on a budget there is a marijuana friendly McDonalds. Where you can smoke while your waiting on your food. You might end up eating 5 boxes of nuggets but that's ok. This concept seems to be the perfect idea. For now this is just a concept hopefully in the future it will become reality.
Related Post: Stoner Sh#t